Testimonials and Case Studies
The Customer Benefits of Using Parts.Cat.Com
Toolsie Persaud Quarries Inc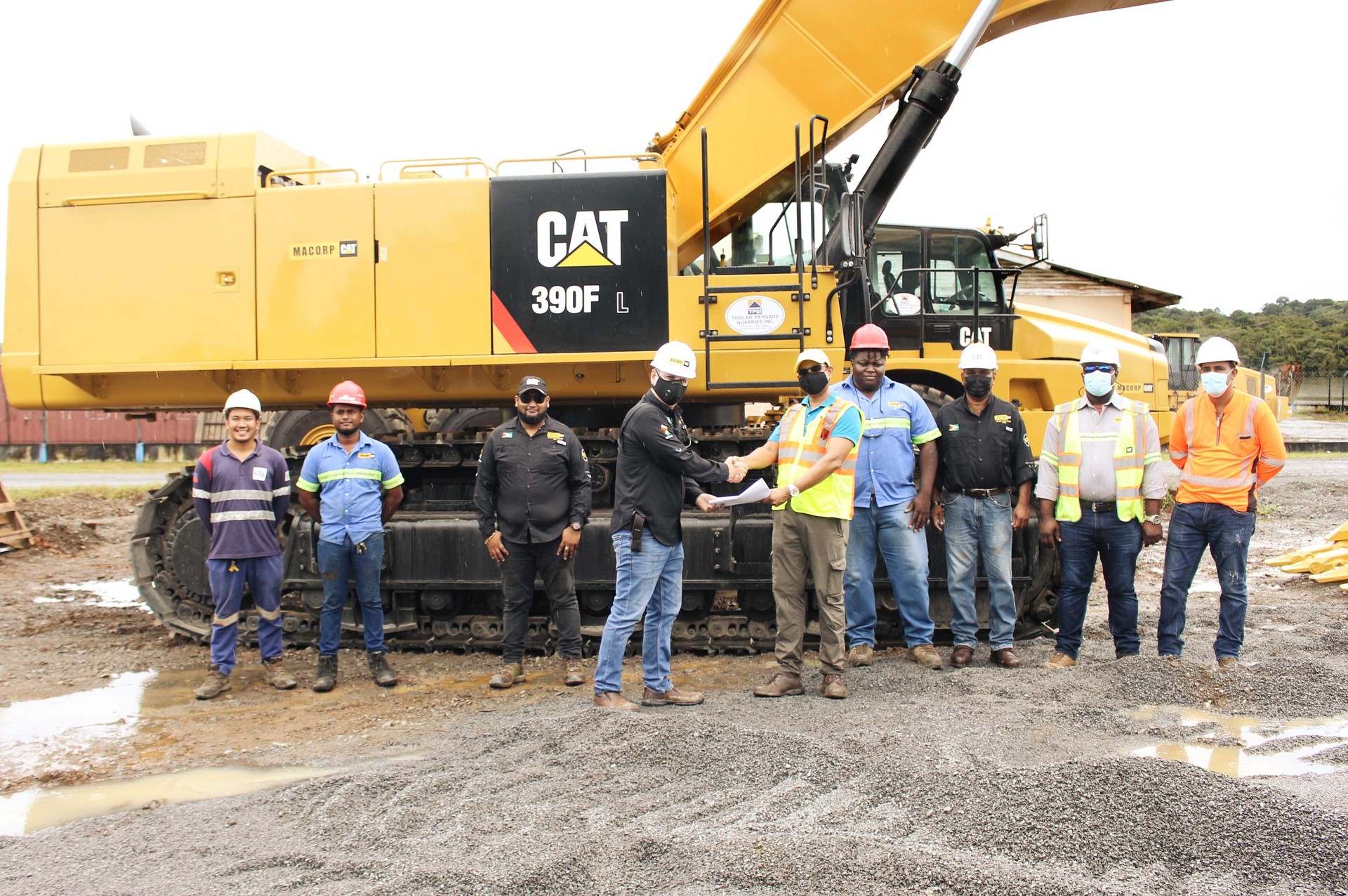 Machinery Corporation of Guyana (MACORP) Commissions 390F L Hydraulic Excavator to Toolsie Persaud Quarries
MACORP is pleased to announce that it has commissioned a 390F L Hydraulic Excavator to Toolsie Persaud Quarries Inc, a subsidiary of Toolsie Persaud Limited, located on the left bank of the Essequibo River, about 20 miles upstream of the town of Bartica.
This quarry is one of the largest producer and supplier of crushed stone, boulders, gabions and other quarry products for road building, sea defense and other major construction projects in Guyana.
The equipment is customized with Product Link, which is a part of the Vision Link system, and is geared to maximize time while reducing owning & operating costs through sophisticated and timely information on the equipment's location, utilization and condition. The machine is also suitable for large mining operation.
Additionally, the 390F L Hydraulic Excavator is well equipped with state-of-the-art technology aimed at improving efficiency for its users. The 390F L Caterpillar Hydraulic Excavator is built to keep production numbers optimized with a C18 ACERT engine for fuel efficiency and reliability.
This deal further highlights the expansion of business relationships between the two companies and will be a major contributor to the strength of the local economy by bringing growth and innovation of modern technology along with presenting opportunities for Guyanese which will serve as a building block for the mining industry in Guyana.
MACORP and Toolsie Persaud Limited had already previously collaborated on various contractual agreements for purchasing of new equipment and the utilization of rental equipment.
The deal was finalized during the first quarter of 2021. MACORP is pleased to have secured this deal with Toolsie Persaud Quarries which reinforces its corporate social responsibility strategy of promoting sustainable development in Guyana. MACORP is the only authorized Caterpillar dealer in Guyana and testifies to the quality products and product support that is usually a hallmark of Caterpillar dealers worldwide.
In commissioning the excavator, Rajesh Persaud, Director of Toolsie Persaud Limited commented that "MACORP continues to bring a high level of technology and innovation to Guyana as has been its hallmark over the years. The Toolsie Persaud Group of Companies has enjoyed an excellent working relationship with MACORP since the early 90's and looks forward to continuing in this trend."