MACORP's Customer Value Agreements are tailored to fit your situation. Perhaps the most important feature of any CVA is flexibility. There are no preset requirements or specific products and services that you must agree to buy. In every case and with every piece of equipment, a CVA is an individualized plan.
Your agreement may include as few or as many machines as you wish. MACORP will work with you to determine the best strategies to maximize your machine's productivity and minimize costs.
There are Three (3) different types of PM agreements
Do It Myself
The customer performs all PM services. MACORP provides schedules, parts and checklists (if required) when necessary.
Do It With Me
The customer performs 250 and 500 hr PM services and MACORP performs the 1000 and 2000 hr PM services. MACORP provides schedules, parts and checklists (if required).
Do It For Me
MACORP performs all services.
Think about your current preventive maintenance practices and service needs, and consider who is best qualified to provide these services. Chances are MACORP can provide service in a more timely, efficient and cost-effective manner. You save money, improve availability, and have more time to concentrate on other important aspects of your business. MACORP has a team in place to handle all the tracking and scheduling your machine hours to ensure on-time services for your equipment.
Are CVA's for Everyone?
Customer Value Agreements are not just for large machines. The need to work efficiently and lower operating costs is the same regardless of a machine's size, age or its application.
That's why CVAs are available for existing fleets and used equipment. Even Certified or dealer rebuild machines can be covered. Currently CVAs are available for equipment in the mining, construction, forestry, and power generation sectors.
Frequency & Options
PM services are normally scheduled at intervals of either 250 or 500 service meter unit (SMU) hours in conjunction with engine oil change periods set for each product. It is the responsibility of the customer or the operator to perform daily and weekly servicing requirements.
The level and frequency of services provided can be tailored to each customer's requirements.
What Does It Cost?
Since each CVA is different, each agreement is priced with you in mind. Every machine has a different operating cost, and each site has conditions that will affect the final price. Ask your MACORP sales representative for a quote on your machines.
How Do I Pay?
There are almost as many options for payment as there are agreements. You can pay flat rate per service, a cost per hour, or pay per service level performed. Ask your MACORP sales representative for more information on payment options.
Preventive Maintenance Agreements
Includes on-site preventive maintenance services at recommended intervals. Trained technicians with extensive equipment knowledge inspect and maintain your equipment. Their reports focus on three areas:
Contamination Control — More than 70% of hydraulic component failures can be traced to some type of contamination. Expert diagnostics and inspections can detect problems long before your operators can detect them
SOS Fluids Analysis — MACORP's factory trained interpreter provides expert analysis of component wear rates and makes recommendations
Technical Inspections — Visual checks and operational assessments are performed during each PM Service
Under a MACORP PM Agreement, equipment is enrolled into a MACORP Maintenance Scheduling program where all PM inspections and services are scheduled and recorded. When services become due, a qualified, experienced technician is dispatched with a full inventory of required parts, tooling and waste oil handling facilities necessary to deliver these inspection and services in the field or shop.
Following each visit, a machine inspection and condition report is provided informing the customer of the inspections and services completed the condition of the machine, and recommendations where attention may be required.
Checklists
Specially prepared checklists for each product & service level which itemize required inspections, services, periodic adjustments, and operational/ diagnostic checks. These checklists also include an area that indicates any items requiring specific attention.
Cleanliness
Extra caution is critical in preventing contamination of systems, compartments, and Scheduled Oil Samples (SOS). Special attention to cleanliness is applied when opening compartments, installing new oils and filters, and taking oil samples.
Detection
Qualified and experienced MACORP technicians recognize problem indicators before unnecessary damage occurs to systems and their components.
Scheduling
Prompt, consistent, and timely scheduling of services.
Reaction
Knowledgeable decisions are made in reaction to problem indicators.
Backlog
Capability to manage a backlog of repairs requiring attention at future services.
A Customer Value Agreement is an opportunity to increase your machines' productivity and availability while lowering your ownership and operating costs. A custom CVA can help you detect equipment problems before they cause failures. This translates to fewer repairs, less unscheduled downtime, lower operating costs and maximum productivity for your business.
In the end, a CVA is a partnership between you and MACORP that will help you succeed by leveraging the equipment management expertise of MACORP. When you and MACORP team up with a CVA, you get more than a piece of CAT iron, you get the company.
Please contact your MACORP sales representative or the MACORP Customer Support Department for quote or further information.
What to Expect in every CVA
Customer Value Agreements (CVA) feature individualized solutions for parts, services, and digital enablers designed to address the evolving needs and expectations throughout your asset lifecycle.
No matter which CVA option you choose, you can expect Caterpillar and your dealer to help keep your asset running.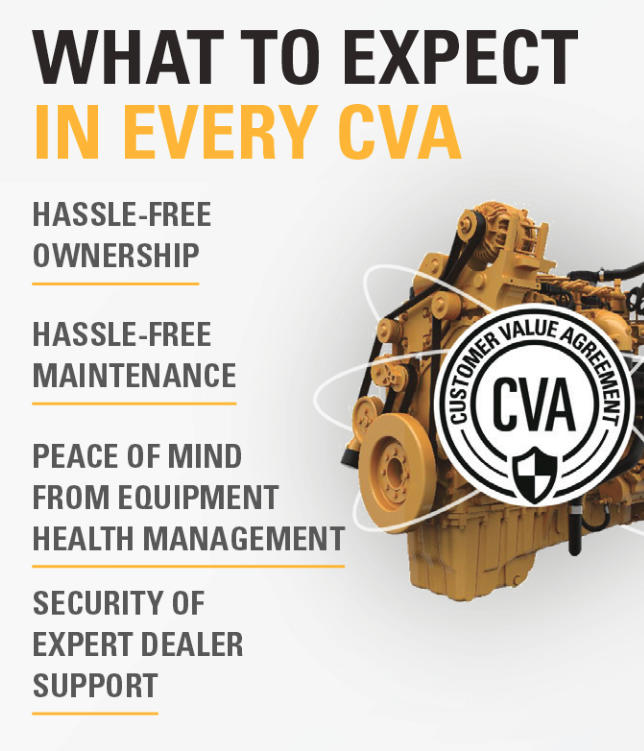 Hassle-Free Ownership
Your CVA is all one plan, fit for your operation and backed by expert tools and advice. With expert information at your fingertips to plan, schedule, and execute your maintenance and repair needs, your ownership experience is hassle free with complete asset protection. Once you choose your options, you are free to focus on the work that improves your bottom line.
Hassle-Free Maintenance
Your CVA unlocks maintenance efficiencies to achieve engine maintenance optimization. Genuine CAT parts are designed for your asset and delivered right to you, right on time. If you prefer to handle your own maintenance, convenient options are available. CAT dealer provide trained professionals who can work with your schedule to minimize downtime. Service options are flexible to best suit your application.
Peace of Mind from Equipment Health Management
Your CVA tools help you monitor your asset and lower the risk of issues occurring. Customer portals show you real-time asset insights such as asset hours, location, fault codes, fuel burn (may require additional equipment), and maintenance alerts. Fluid health analysis tests the condition of your asset's oil, fuel, and coolant — giving you a look inside major systems to better prevent failures and downtime. Inspections further help monitor your asset's health and allow you to troubleshoot issues on-site. The Extended Protection option offers coverage to meet your expectations and provide peace of mind for your investment.
Security of Expert Dealer Support
Your CVA provides dedicated resources for your maintenance planning, repairs, rebuilds, and upgrades. With diagnostic and troubleshooting support, you can be at ease with dedicated expert dealer advice and training options.